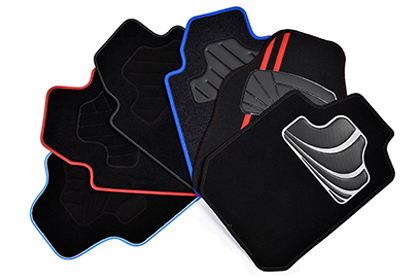 A EUROPEAN LEADER IN PRODUCING OF CAR MATS
Velor and PVC car mats.
We invite you to familiarize yourself with our wide range of car mats.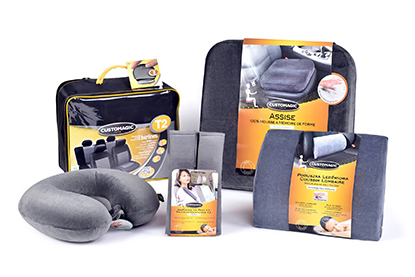 WIDE RANGE OF CAR ACCESSORIES
With us on every trip you are resting.
Car and travel accessories from Custopol will make your car look and feel comfortable.

CUSTO POL Sp. z o. o. Is a leading producer of PVC mats and velor car mats in Europe. We use improved forms of mats finishes such as stitching and finishing, and a variety of fastening systems guarantee the safety of our products. We have a modern, digital cutting equipment and Our database contains over 2000 shapes of car mats. Precise and efficient machines allow for timely completion of each order. Our engineers and technicians are designing and implementing new solutions suits to your needs.


HIGHEST QUALITY AND

MODERN PRODUCTION
To cutting out shape of car mat we are using digital automatic cutting machines (cutting plotters)like Gerber Cutter or Bullmer, that are able to cut any shape with big precision. We are also using hydraulic press machines. We are using high frequency welding machines to weld heel pad to a car mat. High current frequency causes elements of machine to heat up and combine heel pad and car mat together. We are using several types of trimmings and techniques to finish off the edges of the car mats: leather, nubuck, textile piping, overlock. On this stage of car mat production we are using Dürkopp Adler and Pfaff industrial sewing machines. Fixations are mounted in specially constructed press machine, that uses pneumatic cylinders actuated with pressure up to 6-10 bar. In some cases fixes are mounted manually. To produce PVC car mats we are using hydraulic injection molding machines. The plastic mass formed from the molten granulates is injected into appropriate shaped molds. When plastic mass cools down and coagulates, molds are open, and we have new PVC car mats.
SEE HOW WE WORKS

CUSTO POL Sp. z o. o.
MEET THE COMPANY REPRESENTATION OF
CUSTO POL Sp. z o. o.

We appreciate our people, whose contribution and commitment is a necessary factor in creating of our company. Custopol S.A. Custopol Sp. z o. o. employs more than 200 in particular, takes care of development, stability and job satisfaction.

Quality Policy
We meet the highest requirements of the Automotive industry.

IATF Standards
The company is IATF 16949 certified

Satisfaction Guarantee
Satisfaction guarantee for every customer.